The Joy Of Sending Christmas Cards
A little under two months until Christmas!  Doesn't it seem to come round quicker and quicker each year?  And there comes a lovely day, usually mid December, when the first Christmas Cards arrive on your doorstep and you start to think about the wonderful times you'll have with family and friends … and you'll then start to think about all the things that you still need to do!
For me, a very special evening each year is sitting at a big table with little piles of Christmas Cards spread all over it, usually with a glass (or two) of mulled wine, and writing all my cards out.  Every year I think: I really must keep in touch with some of my friends more regularly, and usually I don't manage to do it with all of them.  There's usually a few where I need to double-check the address, and the odd one where I worry: are they still with the same partner? (Not the sort of thing you want to get wrong, as I know to my cost!).
But there's something wonderful about sending cards, isn't there?  it seems to embody the spirit of Christmas – along with mince pies and Tiny Tim (from A Christmas Carol) and dark nights and carol singing …
It seems such a fundamental thing that we do each Christmas that it's hard to imagine that there was ever a time when we didn't do it!  But it was as recently as 1843 when a civil servant by the name of Sir Henry Cole wondered how the newly established "Public Post Office" could be used more widely by ordinary people (in those days only the extremely rich could send anything in the post).  With his artist friend John Horsley, they designed the first ever Christmas Card and sold them for one shilling.  About a thousand were printed, and today when they occasionally come up for sale the cost will run into several thousand pounds (one was sold in auction at Devizes on 24th November 2001 for £22,500!). Here's what it looked like.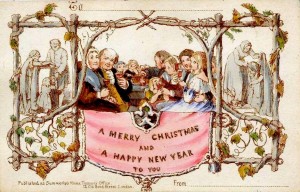 The outer two panels showed people caring for the poor (doesn't it make you want to pick up A Christmas Carol again just thinking about it?) and the inner panel showed a family having their Christmas dinner.  The dinner scene caused a bit of a stir because if you look carefully you'll see a child being given a glass of wine!
Things have moved on just a little bit …
Look at this infographic for some fascinating facts and figures.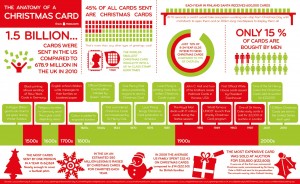 Today we have Facebook, Twitter, and all sorts of "electronic" ways to send our Christmas wishes, but they all seem a bit impersonal.  Recent research by the Royal Mail reveals some interesting facts:
Unsurprisingly, 80% of people would prefer a traditional card to any "electronic" version
85% of people display their cards around their home (I thought that percentage was a bit low from personal experience!)
people are sending more cards not less, despite the ease and allure of Facebook
Let's fact it.  It's impossible not to smile when you open your cards and remember old friends, or to smile when you're writing your own (however long it takes!).
So where do you buy them from
Given how many cards are sent each Christmas, you'll want to make sure that you go to the right printer (and buy them early).  By "the right printer" we mean:
a range of designs
a range of quantities
a flexible approach
easy to order
quick to deliver
personalisation available
value for money
And the good news is, you've found just the right place for your Christmas Card printing requirements.
Click here for our home page; here for a link to our Christmas Card printing page, and here if you want to contact us.  Alternatively call us on 0121 622 6959 … and we'll be very happy to help you.